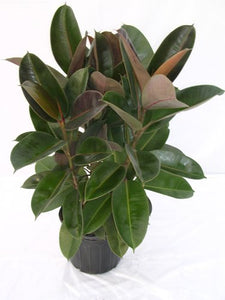 QUESTIONS & ANSWERS
Have a Question?
Be the first to ask a question about this.
Ask a Question
Shrub to tree, oval, elliptic, glossy leaves, 12-18 inches long, tapering to a point
3-20ft Ficus elastica South Asia, Nepal, East India and Burma Moderate dry to moderate moist, light dependant Variegated, dwarf and novelty foliage varieties exist. Proven to improve air quality Medium to high, some direct light
Click here to see more gifts from Ottawa Flowers.
Click here for delivery information.